This page contains links to articles on this site including
WO2 Peter Bayliss' excellent "Forgotten Fleet".

AV1353 Harry Chauvel "The Shovel"
AV1354 Brudenell White "The Broody Hen"
AV1355 Vernon Sturdee "Burnin' Steady"
AV1356 Clive Steele "The Steel"
AS3051 John Monash "Big John"
A short history
Since before Federation, soldiers in Australia have operated watercraft in various roles around the country. During World War II (1939-1945) the Army operated nearly two thousand watercraft, from Tobruk to the Pacific Islands theatre. Post war, our soldiers operated watercraft in Japan and Papua New Guinea and more recently in other conflicts such as Borneo, Vietnam, East Timor, The Solomon Islands and the Persian Gulf.
A major operator of Army watercraft was 32 Small Ship Squadron, raised in 1959 after it was
acknowledged that the Army was restricted by sub-standard road and rail facilities in moving the
Centurion tanks of the 1st Armoured Regiment from their base in Puckapunyal, Victoria. To overcome
this the Army purchased four ex-World War II US Navy Landing Ships Medium (LSM) to be crewed and
operated by soldiers of the Transportation Service of the Royal Australian Engineers (RAE). The
Royal Australian Navy at that time had no interest in this type of administrative sealift, and
Army, with a long history of small ship and landing craft operations, raised 32 Small Ship Squadron, RAE.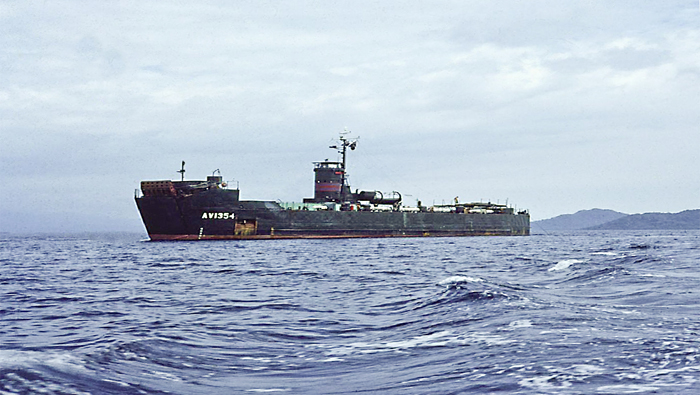 AV1354 Brudenell White off Vietnam
At some 203 ft (62.03m) length overall, with a beam of 34 ft (10.37m) and a displacement of over
900 tons loaded, the ships were too large for the Army berths available at either Sydney or
Brisbane. However they were initially based at Chowder Bay, Sydney. With the closure of Mort's Dock
at Woolwich the Army purchased the property and 32 Small Ship Squadron moved in there in 1963
remaining there until its disbandment in 1971.
The ships of the Squadron were named after prominent Australian generals. The
LSMs being:
AV1353 "Harry Chauvel" (ex US Navy LSM 319)
AV1354 "Brudenell White" (ex US Navy LSM 477)
AV1355 "Vernon Sturdee" (ex US Navy LSM 315)
AV1356 "Clive Steele" (ex US Navy LSM 547)
The Squadron also operated the largest ship to have ever been operated by the
Australian Army, the 1400 ton, 233 ft (71.07m) long coastal cargo vessel AS3051
John Monash which was purchased as the MV Marra from the Adelaide Steamship
Company in 1965. It saw service around Australia, in Papua New Guinea, Indonesia and Vietnam.
The purpose of a landing ship is to beach and allow tracked and wheeled vehicles to drive ashore
via the ship's bow ramp. The unique design of the LSM allowed a beaching draft of just 3ft 2in
(0.97m) fwd and 6ft 2in (1.88m) aft. General cargo can also be discharged this way. The LSM was
powered by two Fairbanks Morse diesel engines, each of 1800 horsepower with twenty vertically
opposed pistons, sufficient to cruise at around twelve knots. It had a steaming radius of 3500
nautical miles. Crew numbers varied from task to task but the normal complement was three officers
and 36 soldiers in peace time and increased to four officers and 47 soldiers during active service.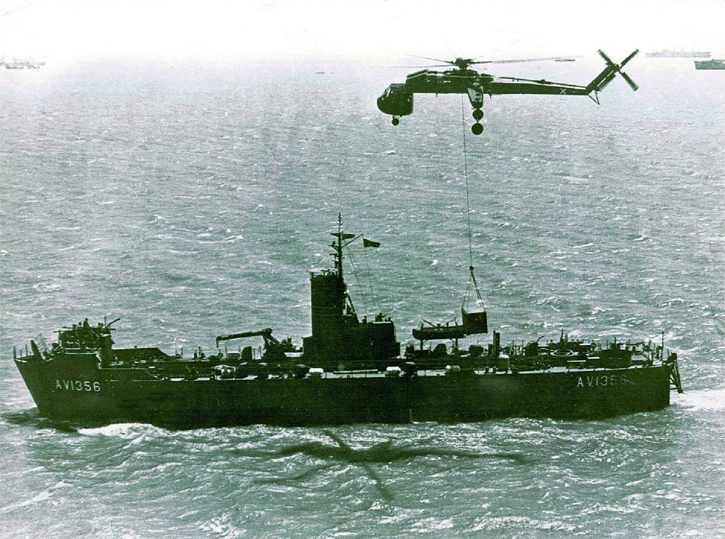 AV1356 Clive Steele conducting loading trials at sea with a Skycrane, Vietnam.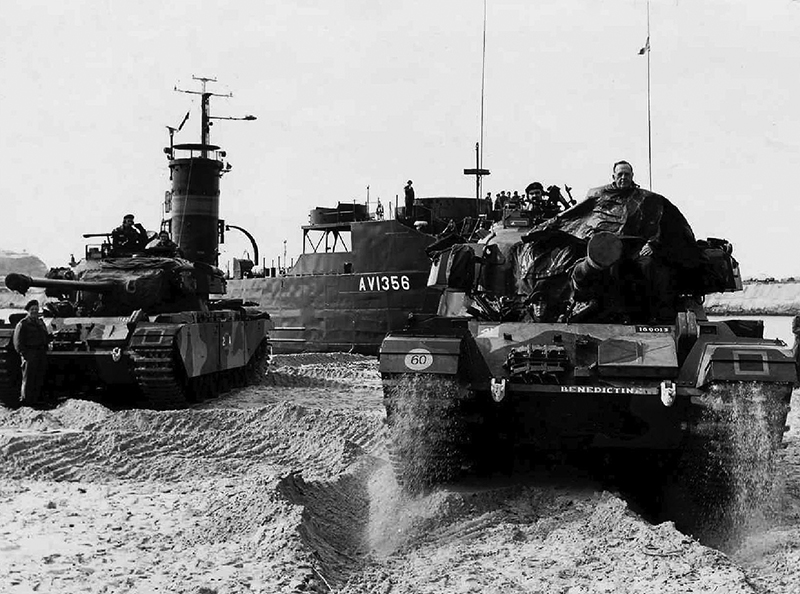 Centurion tank trials with AV1356 Clive Steele at Stockton Beach NSW in 1963. The then Minister for
the Army, Mr Forbes, is on the hull of the lead tank.
Support to the Australian Defence Force.
As well as having the capacity to transport Centurion tanks the LSM was an outstanding vessel for
working around the Australian coastline. The ships undertook many tasks in Australian waters,
mainly supporting the Army but also carrying out requests for assistance from civilian authorities
including relocating cattle in Northern Queensland areas and transporting heavy mining equipment to
King Island in Bass Strait. Support to the Army included exercises Spring Tide, Autumn Tide,
Carbine, Lost Horizon, Quick Step, Long Shot, Barra Winga, Bell Bird and Operation Blowdown, along
the whole East Coast of Australia.
Another major role was assistance to the Australian Army Survey Corps by the ships through the
provision of a maritime support base for survey operations. AV1353
Harry Chauvel and AV1354 Brudenell White were fitted with helicopter platforms to
increase their capability. Support to Australian Army survey detachments was also provided in
Indonesia at various times.
Support to Papua New Guinea
All ships spent considerable time operating in Papua New Guinea waters during the
1960s assisting in 'Nation Building' prior to that country's independence. The ships
spent long periods there carrying out such tasks as delivering and withdrawing vehicles, machinery,
stores and plant equipment for RAE Construction Squadrons that were developing roads and
airfields. The ships were also used in conducting recruiting patrols for the Pacific Island
Regiment, undertaking navigational surveys of riverine systems and moving stores and equipment
around the country and islands for the PNG Defence Force.
In 1964 AV1354 Brudenell White, under command of Captain Wally Blumenfeld RAE, carried out a survey
support task where the ship navigated the Sepik River to the May River junction – a distance of 595
km. No other ship of this size has ever reached so far up this river, either before or since.
Operational Service
Borneo. AV1353 Harry Chauvel and AV1355 Vernon Sturdee were deployed to Borneo in 1964 providing
exceptional support to the Australian Army during the Indonesian Confrontation. These two LSMs
transported the heavy construction plant and equipment of 7 Field Squadron Group RAE, the initial
engineer unit to serve in Borneo. They also assisted in the unloading at sea of all the squadron's
vehicles and
76 tons of stores at Jesselton from HMAS Sydney which, because of the limited port facilities and
reasons of security she anchored in the harbour. The Sydney's aircraft cranes were used in this
operation
Vietnam
From 1966 to 1971 all ships served in South Vietnam with at least one LSM generally "on
station" throughout the period of Australia's involvement. In January 1968 two Centurion Armoured
Recovery Vehicles were loaded onto AV1356
Clive Steele in Sydney which then sailed to Melbourne to take on two Centurion
Bridgelayers. The ship then sailed to Vietnam via Townsville and Labuan, arriving at Vung Tau on 12
February 1968. This was the first consignment of heavy armour to Vietnam and was part of C
Squadron, 1st Armoured Regiment. 12 Centurion tanks followed on MV Jeparit. Because there was no
heavy lift crane at Vung Tau the Jeparit had to sail to Cam Ranh Bay, accompanied by the Clive
Steele. The tanks were then loaded onto the Steele, four at a time, and transported to the
Australian base at Vung Tau.
During the next four years the LSMs played a significant role in transporting armoured
vehicles, including battle casualties, back to Australia.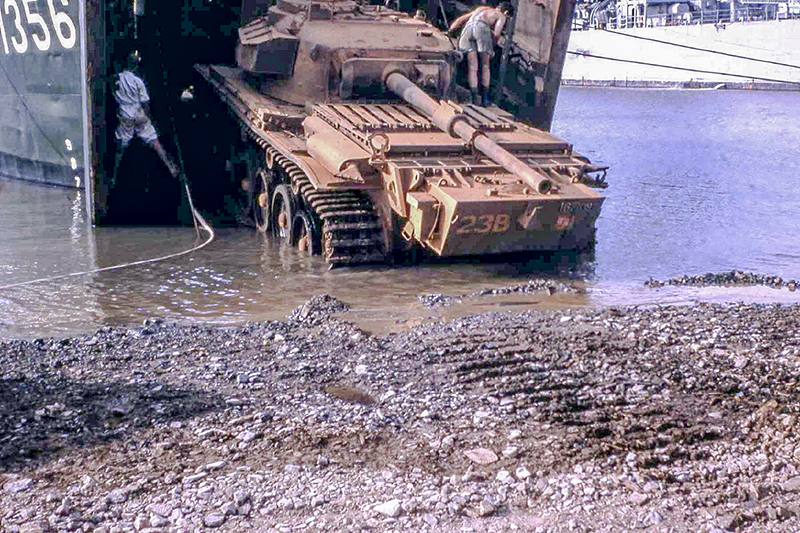 Loading a battle damaged tank onto AV1356 Clive Steele at Vung Tau, Vietnam
for return to Australia in 1969.

Squadron Disbandment
In the early 1970s after the withdrawal of Australian forces from South Vietnam, it was decided
that due to the age of the vessels and maintenance difficulties (they were of hasty wartime
construction and by then some 26 years old) the ships would be disposed of, and 32 Small Ship
Squadron was disbanded in 1971.
With the sale of the ships went the Army's role in operating ocean-going vessels. The RAN would
now take over this function with the smaller Landing Craft Heavy (LCH). The John Monash
was retained under command of 1st Terminal Group until it was sold in 1972. During the life of the
squadron the four LSMs and the John Monash sailed in excess of 600,000 nautical miles in support of
the Australian Defence Force.
There remains a vibrant Association of past members who continue to look after the
history of this unique unit, as well as the welfare of its past members.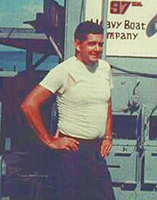 Peter Bayliss SVN 1970
The Forgotten Fleet
N.B. To view in Word click on the Chapter number. To view in browser click on title.
Chapter 2 - Memories of Army Small Ships
Chapter 4 - Britcom Transportation Sqn
Chapter 5 - Northern Territory Command
Chapter 7 - Internal Boats of PNG
Chapter 9 - PNG Transportation Sqn
Chapter 10 - PNGDF Landing Craft Sqn
Chapter 11 - Mobile Riverine Forces
Chapter 12 - Transportation Training Centre