Welcome to 32 Small Ship Sqn & RAE Tn
Please be aware the site is being rebuilt therefore we ask your patience and understanding, thank you.
All members, families and friends, we need photographs of all aspects of life both 32 and Tn. We do not want the physical print or slide but a scanned digital image in .jpg format no more than 2.5MB. Please include if you know, the names, place/ship, date and any extra information you may have. Please email to
webmaster@32smallshipsqn.org.au
This site will endevour to explain what, where and who we were from the early days through to the present using the "History", "N.T.M." (Notice to Mariners) and "Gallery" pages.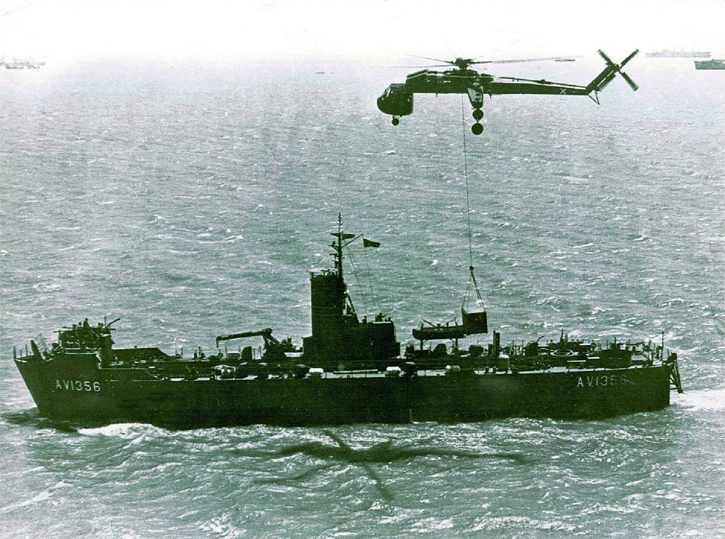 AV1356 Clive Steele conducting loading trials at sea with a Skycrane, Vietnam, March 1968.
This is an excerpt from a speech given by General P.C. Gration AC OBE, a former Chief of the Defence Force and a Sapper, during the Squadron's plaque dedication ceremony at the Australian War Memorial on 6 April 2006:
"The Squadron was formed to operate the four newly-acquired Landing Ships Medium (LSM) of World War II vintage bought from the US Navy in 1959/60 - each renamed after famous Australian generals - Harry Chauvel, Brudenell White, Vernon Sturdee and Clive Steele. Some five years later the Squadron also acquired a small 1400 ton conventional cargo vessel, John Monash from Adelaide Steamship Company.
The primary reason the Army acquired the LSMs was to be able to deploy our Centurion tanks away from their home base at Puckapunyal for exercises and later for war. Having acquired the ships, they were of course capable of doing many other logistic tasks, and we used them to the full.
In the early years the LSMs not only showed that they could move Centurion tanks around, but supported other Army operations around the northern coast of Australia and in Papua New Guinea (PNG). They moved men, vehicles, plant, equipment and stores to many remote places where access across the sea was the best and sometimes the only way to get there. This included supporting Army survey parties, the construction squadrons at Wewak in PNG, Pacific Island Regiment recruiting tours and many others.
Two LSMs served in Borneo during the Indonesian Confrontation. But the LSMs really came into their own during the Vietnam war where they made a major contribution both in moving the Australian force to Vietnam in the first place, and thereafter meeting the urgent logistical needs of both the 1st Australian Task Force and the Americans.
The late Major General Mackay, who was sparing indeed with his praise when it came to RAE, wrote as Commander Australian Force Vietnam to the Engineer in Chief in these terms in 1967. He is speaking of LSM AV1355 Vernon Sturdee, but could have said the same about any of the ships: "I would like you to know what a magnificent job LSM Vernon Sturdee has done during its tour of duty here. The crew worked very hard over long hours and we got more value out of the LSM than we thought possible".
By 1970 the LSMs were reaching the end of their useful lives, and were sold in 1970/71. With their sale, 32 Small Ship Squadron was disbanded at a brief ceremony at Woolwich (their Sydney base) on 30 September 1971, bringing to a close a colourful episode in Australian Army history. John Monash served on until 1974 when she too was sold".